5 Crafty Uses For Your Tree After Christmas
Posted by Dil Gillani on Saturday, December 27th, 2014 at 12:28pm
You loved your tree when you brought it home. It was gorgeous and full of life, and you decked it out with beautiful decorations and admired it greatly for the last two weeks or so. But now Christmas is over and your tree is dying. This year, instead of stripping your tree of it's last remaining dignity and tossing it to the curb, why not try a few fun ways to make it last even longer? These DIY's are simple and creative ways to preserve that $20-$40 you spent.
Tree Stump Coasters - Remove any low-hanging branches and twigs, and cut the stump of the tree into half-inch slices. (This could be tricky, and may take some strength, sharp cutlery, or a power tool.) Once you have your slices, use sandpaper on the flat surfaces on both sides. Then, coat the slices with polyurethane or clear wood varnish. These will make a great addition to your coffee table for the season or a set can be given as a homemade gift!
Stump/Branch Candle Holders - To start, this will pretty much be the same process as the coasters. Determine how big you'd like your holders to be, then slice (carefully please!). Sand down the flat top and bottom until smooth. This time, don't apply any sealant or varnish, as they are flammable! Carve out a small well for a tea light or tall/thin candle to sit. Again, these will look lovely in your home, or the home of a friend if you decide to give them as a gift.
Twig Picture Frame - This one is super easy. Collect all the little twigs and branches from your tree. Remove the pine needles, and wash them of any remaining sap. You can use a plain, wooden picture frame and glue them on, or, if using longer pieces, tie them together at the ends and create your own frame. You can also switch it up entirely by framing a few branches, needles on and all. This will provide a rustic and festive decoration for this time of year.
Branch Coat Rack - Not too tough. Scour your tree for skinny but sturdy branches. You'll need to cut some of the trunk ou do this carefully, then leave just enough branch sticking out so it looks like a hook. Once you've got them, try to get their backs as flat as you can by slicing and sanding. Coat them with wood finish if you'd like. Then all that's left to do is hammer them into a plank with some nails, and hang it up. The coat rack will give your entryway a natural feel.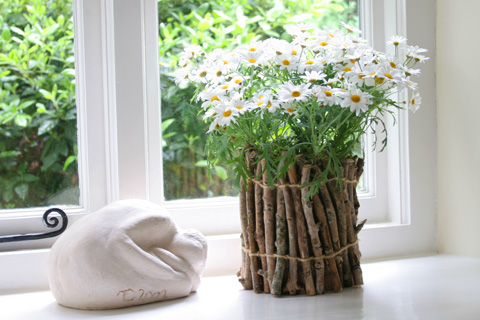 Twig Planters - Extremely simple. Just select a bunch of like-sized branches from your tree. Remove all needles and other bits that may be sticking out. Grab a small flower pot or planter and make sure you've got enough twigs to go around. Apply some hot glue or craft glue around your flower pot and press each twig into place. To finish it off, maybe tie some twine around the twigs, just to secure them in place and add a decorative touch. Now your plants will look even more natural.
2 Responses to 5 Crafty Uses For Your Tree After Christmas
Leave A Comment